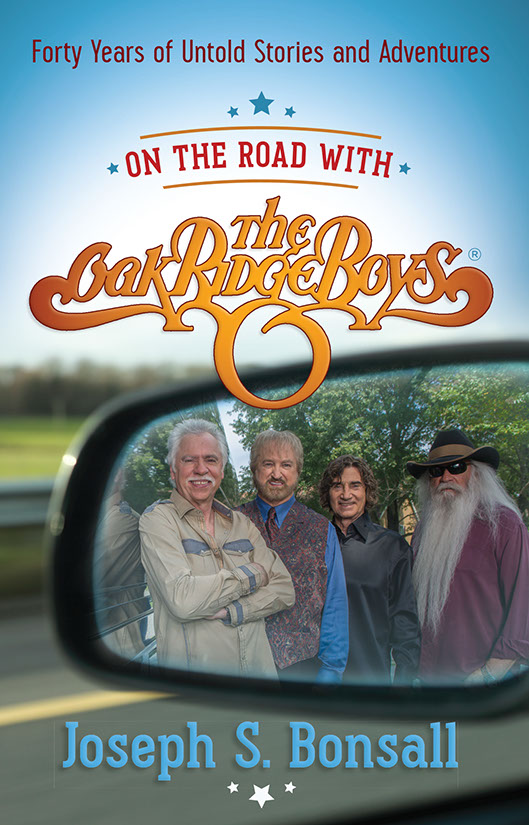 On The Road With The Oak Ridge Boys is an inside fly on the wall look at a legendary American music group that has been together for 42 years. The book contains a bit of our history that dates back to the original Oak Ridge Quartet in the forties but for the most part the focus is on the group that people know today. Anecdotes, humor and plenty of inspiration all revolving around The Road, The Tour, The Music, The Tour Bus and the four unique and distinct personalities that make up The Oak Ridge Boys. For fans of The Boys as well as fans of music in general there is something here for everyone. I also believe that music business students will gain a lot of useful knowledge from OTRWTORB.
From The State Fairs to The Stage of The Grand Ole Opry and From The Recording Studio to Life on and off The Road I invite the reader to climb aboard the bus with us and see how it's done!
I am thankful to Harvest House for giving me the opportunity to write this book and I believe the readers will really enjoy the ride! I also believe that there are blessings in store as we honor Jesus Christ and give Him the Glory in ALL things!
Joseph S. Bonsall
Forty Years of Untold Stories and Adventures
ON THE ROAD WITH
THE OAK RIDGE BOYS
ORDER NOW

Welcome to the Internet Home of Joseph S. Bonsall
Joe is a 42-year member of the American music group The Oak Ridge Boys, http://www.oakridgboys.com, and for decades you have heard his voice singing power harmony with The BOYS and taking the lead on such hit songs as Elvira, It Never Hurts To Hurt Sometime, Love Song, My Son, Peterbilt Sleigh and so many others. He has also written several poignant songs such as G I Joe and Lillie, Sacrifice… For Me and First Christmas Day… and many more.
Joe is also a successful published author of ten books, and his articles, commentaries, and musings have appeared as bylines in newspapers, online, and in such magazines as Power Source, Country Weekly, the Huffington Post, Country Weekly and Time.
Here at josephsbonsall.com you can read many of these writings and also learn more about his books such as G.I. Joe and Lillie. From My Perspective, Christmas Miracles and his latest book On The Road With The Oak Ridge Boys published by Harvest House!
You will learn about the Joseph S. and Mary Ann Bonsall Foundation and the amazing work it has done for literacy and animal causes.
Joseph S. Bonsall… Husband to Mary, father of two daughters Jennifer and Sabrina, grandfather (pop pop) to two grandkids Breanne and Luke, Christian, singer, songwriter, poet, author, Phillies fan and banjo player.
Follow Joe on Twitter @joebonsall and @oakridgeboys
Videos at http://youtube.com/joebonsall
Email Joe at josephsbonsall@aol.com
Joe and his beautiful wife, Mary Ann, live in Hendersonville, TN with their seven kitties, Sally Ann, Crocket, Sunny, Mitty, Baybe', Ted, and Blackie. They also maintain a 350 acre farm on the Tennessee / Kentucky state line with two specially trained Special Ops guard donkeys… Blondie and Truffles.
Copyright 2015 Joseph S. Bonsall